Product details

product data sheet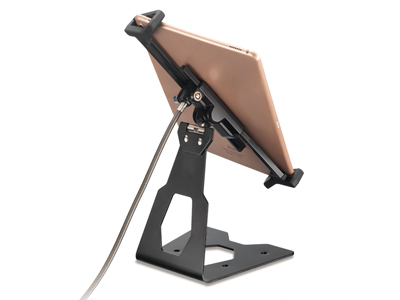 XPADLOCK180S
Security Cable with Universal Support & Holder for Tablet PC 8-13" - 180 cm
CODE: XPADLOCK180S
EAN: 8000130592606
supports
Product menu
printer friendly page

Product description
Hamlet Tablet Security Lock is a security cable with universal anti-theft support and holder for Tablet PCs from 8" to 13". A sturdy locking device featuring a high quality reinforced steel cable for maximum protection against theft. The 180 cm cable is supplied with 2 identical keys.
Features
Universal anti-theft system for Tablet PCs from 8" to 13"
1.8 meter security cable made with high quality reinforced steel*
Perforated support base (screws included) for table or wall mounting
Tiltable and rotating frame (horizontally or vertically)
Solid metal structure for maximum protection
Ideal for commercial and public spaces, shops, showrooms, exhibitions and more
Allows you to secure the tablet to a desk or other immovable object
Key lock system
Easy to install
Cable length: 180 cm
Package contents
Universal support with anti-theft frame
Steel security cable (180 cm)
2 locking keys
4 fixing screws
* The steel cable is overlaid with a plastic sheath to protect and preserve the equipment with which it is used.
Specifications and appearance are subject to change without prior notice.