Product details

product data sheet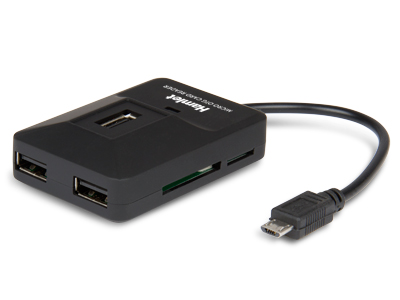 XPADOTGR
Micro USB Card Reader + 3-port USB Hub OTG
CODE: XPADOTGR
EAN: 5391508635401
supports

Product menu
printer friendly page

Product description
Hamlet OTG Card Reader allows to view and copy files from memory cards to Smartphone or Tablet PC through micro USB port. USB hub allows to connect mouse, keyboards, pen drives.
Specifications
USB 2.0 with Micro USB connector
4-port card reader: compatible with SD card, micro SD, MS and M2
3-port hub: fo connecting keyboards, mouse and USB flash drive
Requires power-enabled USB-OTG hardware capability
Compatible with Android 4.0 or above
Plug&Play function
Cable lenght: 12 cm
Package contents
OTG Card Reader
User manual
Specifications and appearance are subject to change without prior notice.