Product details

product data sheet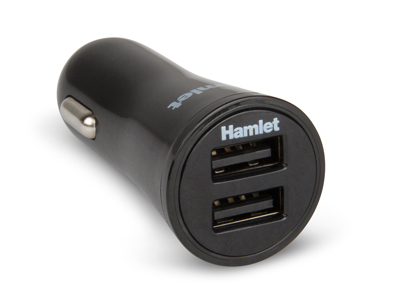 XPW12U234
Dual USB Car Charger 17W 3.4A
CODE: XPW12U234
EAN: 8000130592514
supports
Product menu
printer friendly page

Product description
Hamlet Fast Dual Charger is a USB car charger that plugs into any 12 or 24 Volts cigarette lighter socket and allows you to charge 2 mobile devices simultaneously. Fast Charging technology automatically recognizes the connected device and provides the output current necessary to ensure the fastest charging speed up to 2400mA and 12W of power per port. Includes protection against overloads and short circuits.
Features
Dual port USB car charger for 12-24v cigarette lighter socket
Fast charging for Smartphone and Tablet PC
Auto power output detect for max charge speed up to 2.4A per port
Compact and portable design, charge 2 USB devices at the same time
Require a USB cable for charging, short circuit protection
Specifications
Input Voltage: 12~24V DC
Output Voltage: 5V DC
Output Current: 3400 mA (2400 mA max per port)
Output Normal Rated Power: 17 W (12 W max per port)
Safety: overloads and short circuits protection
Operating temperature: -40 ~ +65 °C
Humidity: 10%~85%
Package content
Dual USB Car Charger
User manual
Specifications and appearance are subject to change without prior notice.
---
Footer
Hamlet is a registered trademark by Riom Services Ltd
Registered in Ireland: No. 266378