Product details

product data sheet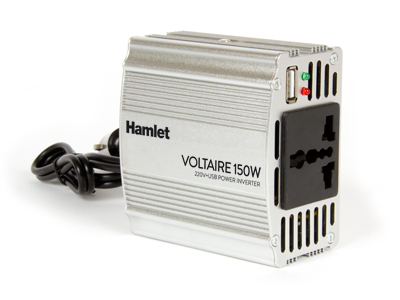 XPW150U
Voltaire: 220V Power Inverter + USB
CODE: XPW150U
EAN: 5391508631038
supports
Product menu
printer friendly page

Product description
Voltaire 150W is a car Power Inverter that converts the 12 Volt cigarette lighter voltage to 220V AC and USB 5V to power or charge on the go notebook, tablet PC, camcorder or digital camera, mobile phone using the original power adapter.
Features

Provide 220 V (AC) output voltage from the 12 V (DC) car cigarette lighter
Suitable for 220 V devices (eg notebook) with original power supply
USB charger connector to power/charge tablet PC, mobile phones, digital cameras or other USB powered devices
Input: 12 V DC; Output: 220 ​​V AC. Power: 150 W
Fuse, overvoltage protection/overheating and auto shutdown to prevent damage or depletion of the battery
Specifications

Shell Material: Al-Mg alloy
Input Voltage: 12V DC
Output Voltage: 110V / 220V AC
Power rating: 150 W
Continuos Power: 120 W
Output Frequency (AC): 50 ± 2 Hz
USB Output: 5V DC
Output Wave: Modified Sine Wave
Efficiency >89%
Overload, Shortcircuit and Overheating Protection
Low Voltage Protection: 10 ± 0.5 V
Over Voltage Protection: 15 ± 0.5 V
Temperature Protection: 50 °C ± 20%
Ambient Temperature: -5 ~ 50 °C
Weight: 300 g
Dimensions (L×W×H): 82 × 89 × 47 mm
Package content
Specifications and appearance are subject to change without prior notice.