Product details

product data sheet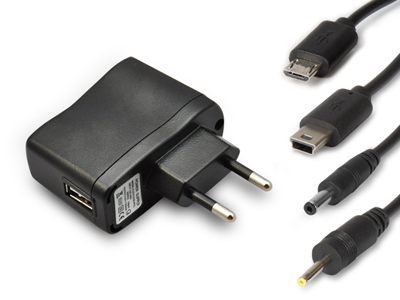 XPW220MOB
Universal Wall Charger for Tablet PCs and Smartphones
CODE: XPW220MOB
EAN: 5391508635340
supports
Product menu
printer friendly page

Product description
Universal Kit is the 4-in-1 solution to charge your mobile devices both at home and on the go. The USB wall charger together with the 4 interchangeable power connectors supplied allow you to power most mobile devices such as Smartphones, Tablet PCs and MP3 players.
Features
Universal USB wall charger for Smartphones, Tablet PCs and MP3 players
Fit all electronic appliances that use a USB charging cable
220V USB wall charger
Specifications
Input Voltage: 100~220 V AC
Output Voltage: 5 V DC
Output current: 2000 mA
Dimension: 78 × 74 × 28 mm
Weight (without cables): 47 g
Micro USB cable length: 100 cm
Adapters length: 15,5 cm
4 power connectors included:
- Micro USB
- Mini USB
- DC jack 10 × 2.5 mm
- DC jack 8 × 3.5 mm
Specifications and appearance are subject to change without prior notice.
---
Footer
Hamlet is a registered trademark by Riom Services Ltd
Registered in Ireland: No. 266378