Product details

product data sheet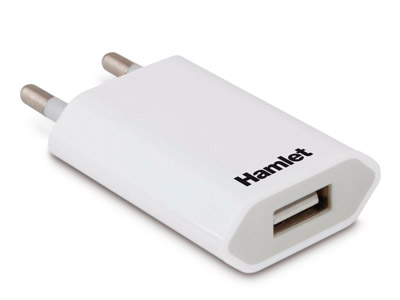 XPW220U2
220V Travel Charger USB Power Adapter
CODE: XPW220U2
EAN: 5391508634008
compatible with
Product menu
printer friendly page

Product description
Hamlet USB Charger is a universal wall charger that connects to a standard 220V electrical socket and provides a current of 1000mA to recharge the batteries of mobile phones, smartphones, tablets and other USB-powered devices. The compact and portable design allows you to put it in a bag or backpack to always have it with you on the go.
Features
USB wall charger for smarphones and tablets
One USB charging port
Input: 100-240V 50Hz/60Hz
Output: 5.0V DC - 1000mA
Rated output power: 5 W
Short circuits protection system
Require a USB cable for charging
Compact and portable design
Convenient for use at home, office and on the go
Easy to use, plug and play
Weight: 20 g
Specifications and appearance are subject to change without prior notice.