Product details

product data sheet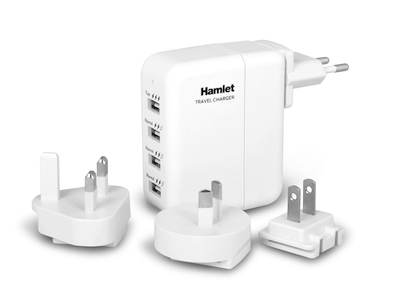 XPWC420TRAV
4-Port USB Wall Charger 20W with Adaptors for 150 Countries
CODE: XPWC420TRAV
EAN: 8000130591470
supports
Product menu
printer friendly page

Product description
Hamlet Travel Charger is a compact 20W USB wall charger that can recharge up to 4 electronic devices simultaneously and be used in more than 150 countries thanks to its 4 interchangeable plugs. Equipped with 4 USB ports including 1 x 2400mA and 3 x 1000mA, it is ideal for charging mobile devices such as smartphones, tablet PCs, mobile phones, MP3 players, digital cameras and so on. 2400mA port is particularly suitable for charging tablets and smartphones with high power demand while the 3 1000mA ports are ideal for recharging small devices like mobile phones and MP3 players.
Specifications
Universal 100-240V AC wall charger with 4 USB ports
4 interchangeable plugs to fit wall outlets in more than 150 countries
Allow hi-speed charging for 4 usb compatible devices simultaneously
1 × 2.4A port for iPad, tablet or other high power devices
3 × 1A ports for iPhone, mobile phone and most usb devices
input: 100-240V AC
Output: 5V DC 2.4A × 1 + 5V DC 1A × 3
Power: 20W total (4A max)
Over-voltage and short circuit protection
Compatible with mobile phone, smartphone, tablet pc, camera, mp3 etc.
Dimensions (without plug): 69 x 80 x 36 mm
Package contents
USB Travel Charger
4 interchangeable plugs (EU/US-CHINA/UK-HK/AU-NZ)
User manual
Specifications and appearance are subject to change without prior notice.