Product details

product data sheet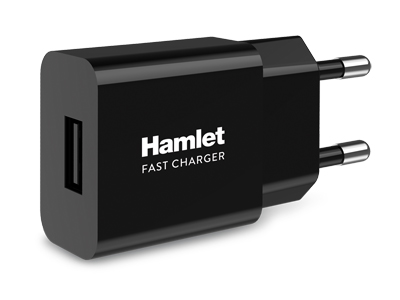 XPWCU110
USB Wall Charger 2.1A 10.5W
CODE: XPWCU110
EAN: 8000130593085
compatible with
Product menu
printer friendly page

Product description
Hamlet Fast Charger is a 10.5W (2.1A) USB wall charger that allows you to charge smartphones, tablets and other USB-powered devices. The compact and portable design allows you to slip it into a bag or backpack to always have it with you when on the go.
Specifications
USB Fast Charger for tablets, smartphones and most USB
powered devices
Single USB charging port (USB cable not included)
Input: 100-240V AC 50/60Hz 0.6A
Output: 5V DC 2.1A
Power: 10.5W
Overcurrent, overvoltage and short circuit protection
Compact and portable design
Convenient for use at home, office and on the go
Dimensions: 72 × 35 × 20 mm
Weight: 35 g
Package content
USB Fast Charger
User Manual
Specifications and appearance are subject to change without prior notice.