Product details

product data sheet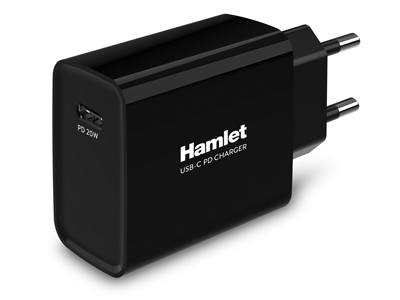 XPWCU120PD
USB-C Power Delivery Wall Charger 20W
CODE: XPWCU120PD
EAN: 8000130593269
compatible with
Product menu
printer friendly page

Product description
Hamlet Type-C PD Charger is a 20W USB-C wall charger with Power Delivery technology. The USB-C Power Delivery adapter offers 5, 9 or 12 Volts output to charge smartphones and tablets equipped with a USB Type-C port.
Specifications
USB Type-C Power Delivery wall charger
Single Fast Charging USB-C port (USB cable not included)
Ideal for recharging tablets, smartphones and most USB-C powered devices
Input: 100-240V AC 50/60Hz 0.4A
USB-C PD Output: 5V/3A, 9V/2.22A, 12V/1.66A
Power: 20 W
Overcurrent, overvoltage and short circuit protection
Compact and portable design
Convenient for use at home, office and on the go
Dimensions: 82 × 45 × 26 mm
Weight: 52 g
Package content
USB-C PD Charger 20W
User Manual
Specifications and appearance are subject to change without prior notice.