Product details

product data sheet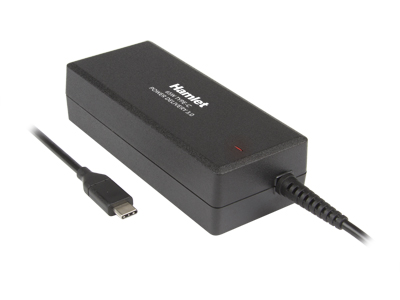 XPWNB065PD
USB-C Notebook Charger Power Delivery 3.0 65W
CODE: XPWNB065PD
EAN: 80001305933528
supports
Product menu
printer friendly page

Product description
Hamlet USB Type-C Notebook Charger 65W is a universal power adapter that offers efficient and fast charging for laptops and mobile devices such as smartphones and tablets equipped with USB-C port. USB-C Power Delivery 3.0 technology automatically detects the connected device and delivers the exact power required for fastest charging.
Features
USB Type-C Power Delivery 3.0 power adapter with EU plug
Compatible with Laptops, Tablets and Smartphones
Total output power: 65 W
Input: 100-240V AC 50/60Hz 1.5A max
USB-C output: 5V, 9V, 12V, 15V, 20V DC 3.25A max
Short circuit, overvoltage, overcurrent and overheating protection
Power cable length: 1.2 meters
USB-C cable length: 1.2 meters
Power adapter dimensions: 117.5 x 49.5 x 32 mm
Weight: 290 g
Package Contents
USB Type-C Power Adapter
Power cable (1.2 m)
User manual
Specifications and appearance are subject to change without prior notice.