Product details

product data sheet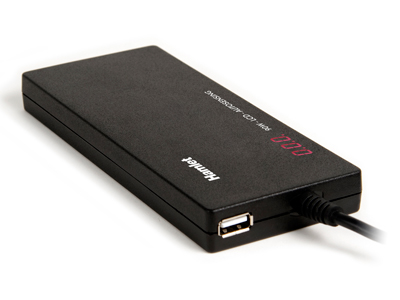 XPWNB90ALCD
Universal Notebook Power Adapter 90W Autosensing + USB 5V 1A
CODE: XPWNB90ALCD
EAN: 5391508634572
supports
Product menu
printer friendly page

Product description
Ultra slim 90W universal power supply for notebooks to use as a replacement or secondary power adapter at homeor office. Automatic voltage selection provides the correct power output to your notebook without manual settings. The extra USB port allows charging your MP3 player or mobile phone. With 13 different connectors for major notebook brands on the market. Now available with new conntectors for HP and Lenovo.
Features
Power output: 12-15-16-18-18,5-19-19,5-20-24 V DC
Automatic voltage switching
New connectors for HP and Lenovo
5V (1A) USB port
Overload, short circuit and overheating protection
High efficiency energy saving
Ultra slim design
Package content

Power adapter
Power cable
13 swappable notebook connectors
User's guide
Connectors list and compatibility
Connector
External/Internal Diameter
Laptop Brand
1 (16V)
6.5 x 4.4 x 1.4 mm
FUJITSU, SONY
2 (19V/19.5V)
6.5 x 4.4 x 1.4 mm
FUJITSU, SONY
3 (15V)
6.3 x 3.0 mm
NEC, TOSHIBA
5 (18V~19V)
5.5 x 2.5 mm
ACER, ASUS, COMPAQ, DELL, DELTA,
FUJITSU, GATEWAY, HP, HP/COM, IBM,
LENOVO, LITEON, NEC, TOSHIBA
6 (20V)
3 PIN
DELL
7 (18V~19V)
5.5 x 1.7 mm
ACER, DELL, HP, LITEON
8 (18V~19V)
4.8 x 1.7 mm
ACER, ASUS, COMPAQ, DELTA,
HP/COMPAQ, LG, NEC
9 (19.5V)
7.4 x 5.0 x 1.0 mm
DELL
10 (18V~19V)
7.4 x 5.0 x 1.0 mm
HP, HP/COMPAQ
11 (18V~19V)
5.5 x 2.1 mm
ACER, ASUS
13 (19V)
5.5 x 3.0 x 1.0 mm

SAMSUNG
37 (19V/19.5V)
4.5 x 2.5 x 1.0 mm

HP
38 (20V)
11 x 4.6 x 0.6 mm

LENOVO
Specifications and appearance are subject to change without prior notice.