Product details

product data sheet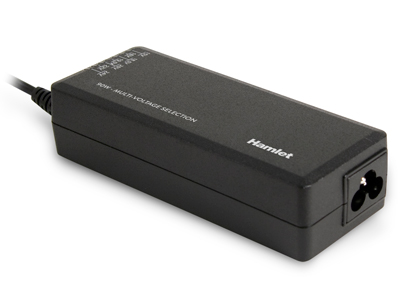 XPWNB90C
Universal Notebook Power Adapter 90W Compact
CODE: XPWNB90C
EAN: 5391508634565
compatible with
Product menu
printer friendly page

Product description
Compact universal power supply for notebooks to use as a replacement or secondary power adapter at home or office. Manual voltage selection; with 9 different connectors for major notebook brands on the market. Now available with new conntectors for HP and Lenovo.
Features
Power output: 15-16-18,5-19,5-20-22-24 V DC
Manual voltage selection
New connectors for HP and Lenovo
Overload, short circuit and overheating protection
High efficiency energy saving
Compact design
Power plug: Schuko
Package content

Power adapter
Power cable
9 connectors
User's guide
Connectors list and compatibility
Connector
External/Internal Diameter
Laptop Brand
A
6.5 x 4.3 x 1.4 mm
FUJITSU, SONY, SAMSUNG
D
6.3 x 3.0 mm
NEC, TOSHIBA
E
4.8 x 1.7 mm
HP/COMPAQ, COMPAQ, DELTA, NEC, ASUS
F
5.5 x 2.5 mm
tuning type with
fork terminal
ACER, COMPAQ, DELTA, FUJITSU, HP/COM,
IBM, LITEON, LS, GATEWAY
G
5.5 x 3.0 x 1.0 mm
SAMSUNG
Q
7.4 x 5.0 x 1.0 mm
DELL
R
7.4 x 5.0 x 1.0 mm
HP/COQ
X
4.5 x 3.0 x 1.0 mm
HP
Z
11 x 4.6 x 0.6 mm
LENOVO
Specifications and appearance are subject to change without prior notice.