Product details

product data sheet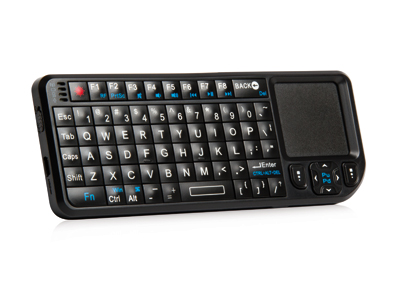 XRFKEYPADLP
Mini Keyboard RF 2.4GHz + Touchpad + Laser Pointer for PC - Smart TV - Tablet PC - Smartphone
CODE: XRFKEYPADLP
EAN: 5391508635371
supports









Product menu
printer friendly page

Product description
Hamlet Wireless Mini Keyboard is a highly functional portable device equipped with RF receiver with USB interface. Lets have a mini QWERTY keyboard with 2.4 GHz wireless technology, a convenient built-in touchpad and laser pointer all in one product. Hamlet Wireless Mini Keyboard provides in addition to the normal keys of a keyboard as well as some dedicated media keys that allow the volume control of the connected device as well as the reproduction of the contents such as videos and music. The integrated laser pointer is also a practical accessory for use during presentations and lectures.
Features
Wireless Mini Keyboard + Touchpad + Laser Pointer
Wireless RF connection technology at 2.4 GHz
Multimedia function keys
USB receiver included
Backlit keyboard
Compatible with PC, Smart TV, Video projector, Tablet PC and Smartphone
Supported systems: Windows, Mac, Linux, Android, iOS *
Specifications
Frequency range: 2,4 GHz
Wireless operative range: up to 10 m
Li-ion rechargeable battery
Input: 5V DC, 300 mA
Dimension: 151 x 59 x 12.5 mm
Weight: 104g
Box content
Wireless Mini Keyboard with nano USB receiver
USB recharge cable
User's guide
* Some features may be limited in certain devices and/or operating systems.
Specifications and appearance are subject to change without prior notice.
---
Footer
Hamlet is a registered trademark by Riom Services Ltd
Registered in Ireland: No. 266378