Product details

product data sheet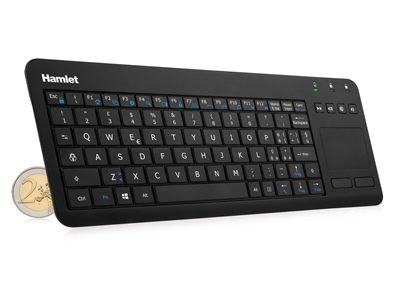 XRFKEYPADTV
Wireless RF 2.4GHz Keyboard + Touchpad
CODE: XRFKEYPADTV
EAN: 5391508635395
supports







Product menu
printer friendly page

Product description
Hamlet Wireless Smart TV Keyboard is a compact keyboard with a touchpad and two buttons for convenient control of the mouse able to communicate wirelessly thanks to the 2.4GHz RF wireless technology. It is the ideal solution to comfortably control devices such as Smart TV, Projectors, Media Center, Computer, Tablet PCs and Smartphones. The keyboard works with two common AAA batteries that provide extended use of the device and includes a nano USB receiver for the wireless connection.
Features
Wireless keyboard with built-in touchpad
Italian QWERTY layout with 80 keys
Wireless RF connection technology at 2.4 GHz
4 multimedia function keys
Nano USB receiver included
Compatible with PC, Smart TV, Video projector, Tablet PC and Smartphone
Supported systems: Windows, Mac, Android *
Specifications
Frequency range: 2,4 GHz
Wireless operative range: up to 10 m
Power supply: 2 x AAA battery
On/Off power switch
Dimensions: 282 x 118 x 17 mm
Weight: 220 g
Box content
Wireless Keyboard
Nano USB receiver
2x AAA battery
User manual
* Some features may be limited in certain devices and/or operating systems.
Specifications and appearance are subject to change without prior notice.