Product details

product data sheet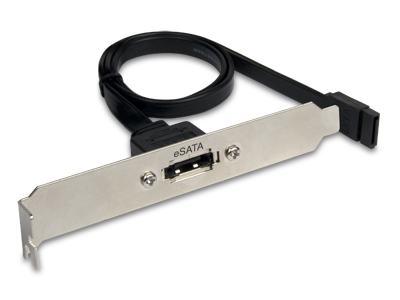 XSATAFRM
SATA to E-SATA converter for desktop computer
CODE: XSATAFRM
EAN: 5391508631243
supports





Product menu
printer friendly page

Product description
Hamlet E-SATA Kit converts an existing internal SATA port into a fast external eSATA port. It can be installed as a standard PCI card and does not require drivers. This adapter is the ideal solution for connecting external storage devices equipped with eSATA interface with data transfer rates up to 1.5 Gb/s.
Features
For Computer with internal SATA ports
Compliant with Serial ATA 1.0 specifications
Compatible with SATA ports on Mother Boards or add in cards
Supports external eSATA devices
Compatible with SATA II devices
Easy Plug & Play installation
Supports Hot Swapping function
OS Transparent, does not require driver
Supports Windows, Mac and Linux OS
Specifications and appearance are subject to change without prior notice.
---
Footer
Hamlet is a registered trademark by Riom Services Ltd
Registered in Ireland: No. 266378