Product details

product data sheet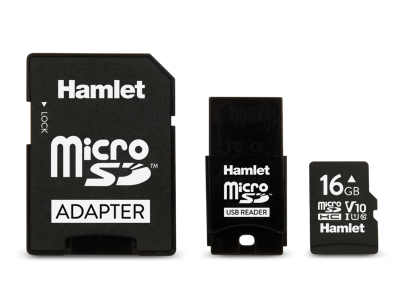 XSD016-U1V10
Micro SD HC Card 16GB with SD Adapter & USB Reader
CODE: XSD016-U1V10
EAN: 8000130592460
compatible with
Product menu
printer friendly page

Product description
Hamlet Micro SD card is the ideal solution to expand the storage capacity of your smartphone, tablet, action cam, drone and any device equipped with a microSD card slot. The read/write speed of this card allows you to capture Full HD video. The Micro SD card also comes with an SD adapter to share files on compatible SD devices and a USB adapter that allows you to quickly transfer files to any computer or other compatible device with a USB port.
Features
Capacity: 16 GB
Speed class: C10
UHS speed class: U1
Video class: V10
Video support: Full HD
App performance class: A1
Reading speed: up to 100 MB/s
Writing speed: up to 35 MB/s
Package content
16GB Micro SD Card
USB Reader
SD Adapter
Specifications and appearance are subject to change without prior notice.