Product details

product data sheet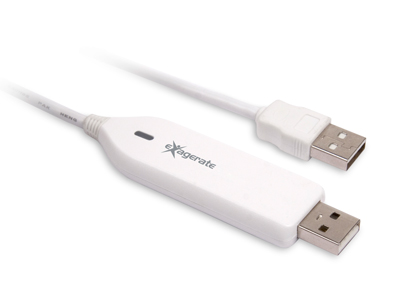 XU2LINKFL
USB 2.0 Up-Link Cable for Mac & PC
CODE: XU2LINKFL
EAN: 5391508634510
supports






Product menu
printer friendly page

Product description
Exagerate UP-LINK Cable is an a High-Speed USB File Transfer Adapter that operates as a bridge between two computers providing an easy data exchange or data transmission without adding networking cards. The utility software is already embedded in the cable and no driver installation is required. The USB 2.0 interface provides data transfer rates of up to 480Mbps and is fully backward compatible with USB 1.1 devices. Mac and PC compatible.
Specifications
High Speed USB 2.0 interface
USB 1.1 backward compatible
USB Bus powered
Data transfer rate up to 480 Mbps
Light LED indicator (green)
Cable length: approximately 1.8m (6 feet)
Weight: approximately 50 g (including cable)
Windows or Mac driver-free
Operating temperature: 0 ~ 50 °C
Storage temperature: -40 ~ 55 °C
Supported OS: Windows 2000/XP/Vista/7/8 and 10, Mac OS X 10.4 or later
Specifications and appearance are subject to change without prior notice.
---
Footer
Hamlet is a registered trademark by Riom Services Ltd
Registered in Ireland: No. 266378