Product details

product data sheet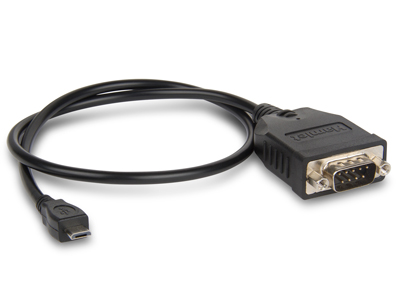 XURS232MICROTG
Micro USB OTG to Serial RS-232 Adapter for Tablet & Smartphone
CODE: XURS232MICROTG
EAN: 8000130591302
supports

Product menu
printer friendly page

Product description
Hamlet Micro USB OTG to Serial adapter cable converts the micro USB port on your mobile device into an RS-232 DB9 connection, allowing you to control a serial device from the convenience of your Smartphone or Tablet PC. Designed for mobility and integration in mixed environments, this solution is compatible with Android.
Features
RS-232 9-pin Serial port for tablet and smartphone equipped with Micro USB OTG port
Connettors: Micro USB Type B male, RS-232 DB9 male
PL2303 USB-to-Serial controller chipset
USB powered, no external supply required
Cable lenght: 45 cm
Compatible with Android 3.2 or above
Specifications and appearance are subject to change without prior notice.