Product details

product data sheet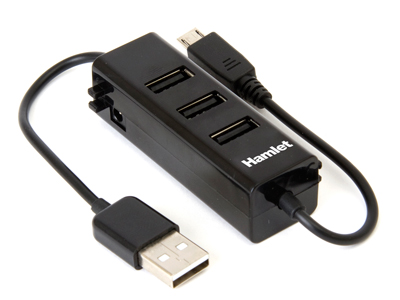 XUSB301M
3 Ports USB Hub + Micro USB Charger
CODE: XUSB301M
EAN: 5391508633810
supports







Product menu
printer friendly page

Product description
Hamlet Hub-Charger is a compact and lightweight hub that adds three USB 2.0 ports to your computer without the need for an external power supply. It also features a Micro USB connector that allows charging the latest smartphones and mobile phones. It's the perfect travel companion, designed to be placed comfortably in your laptop bag.
Features
Three (3) USB 2.0 Hi-Speed ports
One (1) Micro USB connector for mobile phone charging
Compliant with USB 2.0 specifications
Backward compatible with USB 1.1
Data transfer rate up to 480Mbps
Compact and portable design
Provide up to 500mA per port
USB powered, no adapter required
Fully Plug & Play installation
Total length: 30 cm
Weight: 22 g
Specifications and appearance are subject to change without prior notice.