Product details

product data sheet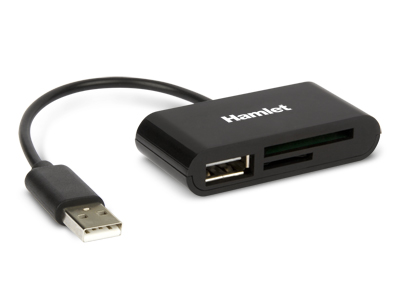 XZR101UA
SD + MicroSD Memory Card Reader + 1 USB A Port - USB Type A Interface
CODE: XZR101UA
EAN: 8000130593276
supports





Product menu
printer friendly page

Product description
Hamlet USB-A Memory Reader is an SD and MicroSD memory card reader combined with a USB 2.0 Type A port ideal for connecting USB devices such as mouse and keyboard or for charging smartphones and tablets. USB-A interface allows you to connect to any laptop equipped with a standard USB port.
Specifications
USB Type A SD/MicroSD Memory Card Reader with USB 2.0 Type A Port
Compatible with SD, SDHC, SDXC, Micro SD, Micro SDHC, Micro SDXC Memory Cards
USB 2.0 port for external devices connection and charging
USB 2.0 data transfer rate up to 480 Mbps
Dimensions: 54 × 25 × 12 mm
Cable Length: 15 cm
Weight: 13 g
Package contents
USB Type A Memory Card Reader
User Manual
Specifications and appearance are subject to change without prior notice.