Product details

product data sheet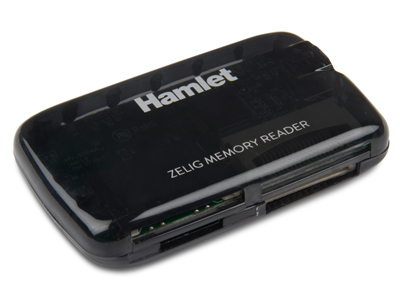 XZR751U
Zelig Memory Reader 75 in 1 USB 2.0 card reader
CODE: XZR751U
EAN: 5391508632974
supports







Product menu
printer friendly page

Product description
The new Zelig Memory Reader is a 75 in 1 memory card reader that reads and save data from Compact Flash Type I/II, Micro Drive, Secure Digital, Multi Media Card, Smart Media, Memory Stick, Memory Stick Pro and XD. Its small dimension make this product ideal also to be carried with your Notebook. No drivers needed with Win ME/2000/XP and Vista. With the aid of card adapter it can read Mini-SD, Micro SD, MMC mobile, MMC Micro, RS MMC and T-Flash.
Specifications
Hi-Speed USB 2.0 interface
Data transfer rates: Up to 480Mbps with USB 2.0; Up to 12Mbps with USB 1.1.
USB bus powered.
Plug-Play, supports Hot-Swapping.
LED for bus power activity indication.
Supports Win 98/98SE/ME/2000/XP/Vista/7/8 and 10, Mac OS 10.4 or above, Linux (kernel 2.4.0 or above)
Interface: 5-Pin Mini USB support USB1.1/2.0 connect with device + USB A type connector for USB interface connection.
Operating temperature: 5 °C ~ 70 °C
Certification: FCC Class B, CE
Compatibility list
Compact Flash:
Type I/II, IBM/Hitachi Microdrive, CF 16GB, Magicstor, Extreme, Extreme III, ULTRA, ULTRA II, ULTRA-X, HS-CF, CF I Pro, CF I Pro II, CF I Elite Pro II, CF I Picture
Secure Digital:
SD, SD 2.0, SD HC class 2, SD HC class 4, SD HC class 6, Extreme SD, Extreme III SD, ULTRA SD, ULTRA II SD/SD plus, SD Pro, SD ELITE Pro, Mini-SD*, Micro SD*, Micro SD HC class 2*, MicroSD HC class 4*, MicroSD HC class 6*, SD High Speed 150X
Multimedia Card:
MMC, MMC Plus, MMC mobile*, RS MMC*, RSMMC mobile*, HS MMC, HS RS MMC*, DV-RS-MMC, T-Flash*, C-Flash*, MMC Micro*, MMC 4.0
Memory Stick:
MS, MS MagicGate, MS PRO, MS PRO(MG), Extreme MS PRO, Extreme III MS PRO, HS MS Pro, HS MS MG Pro, MS Duo, MS Duo(MG), MS PRO Duo, MS PRO DUO(MG), HS MS Pro Duo, HS MS MG Pro Duo, MS Select, MS Pro Ultra II, MS Pro Duo Ultra II, MS ROM, M2 (Micro MS)*, MS Pro MG Extreme/Extreme III, MS Duo MG High Speed, MS Pro Duo MG Ultra II, MS Pro MG Ultra II
XD-Picture Card:
XD, M XD, M XD 2GB, H XD, H XD 2GB
*adapter needed
Specifications and appearance are subject to change without prior notice.
---
Footer
Hamlet is a registered trademark by Riom Services Ltd
Registered in Ireland: No. 266378