Product details

product data sheet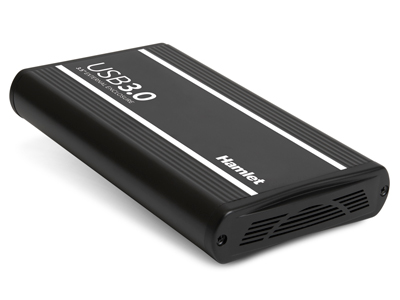 HXD3U3
External enclosure for 3.5" SATA Hard Drives
CODE: HXD3U3
EAN: 5391508634312
supports







Product menu
printer friendly page

Product description
Hamlet USB 3.0 Storage Station is an external Hard Disk enclosure designed to fit 3.5" SATA Hard Drives up to 3 TB. USB 3.0 is the new generation of high speed interface that offers transfer speeds of up to 5Gbps, 10 times faster than USB 2.0. The installation is easy and fast while the solid aluminium body perform an excellent heat dissipation.
features
Supports 3.5" SATA I and SATA II Hard Disk Drives
USB 3.0 interface; data transfer rate up to 5 Gbps
Solid aluminium body for protection and excellent heat dissipation
Active LED to indicate power and data access
External power adapter included
USB 3.0 cable included
Input AC 100-240V 50-60Hz, Output DC 5V/12V
Backward compatible with USB 2.0 and USB 1.1
Hot swappable; Plug and Play
Supports Windows 2000/XP/Vista/7/8/10, Mac OS 9.x or above and Linux (kernel 2.4.18 or above)
package content

3.5" USB 3.0 Enclosure
Power Adapter
USB 3.0 Cable
User Manual
Compatibility
It is possible to verify the compatibility of Hamlet enclosures and power supplies on the following Compatibility List
Specifications and appearance are subject to change without prior notice.
---
Footer
Hamlet is a registered trademark by Riom Services Ltd
Registered in Ireland: No. 266378